ESOMAR MENAP Forum 2016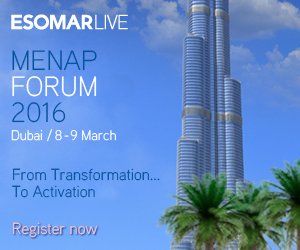 DigitalMR in collaboration with Nielsen was one of the sponsors of the ESOMAR MENAP Forum 2016, which focused on the theme 'From Transformation... To Activation'.

Continuing in the steps of last year's event, the 2016 edition aimed to provide a better understanding of what the future holds for the market research industry, and how client expectations are shifting.

The event, where DigitalMR CEO Michalis Michael attended and delivered a 60-second pitch, took place on March 8th and 9th (2016) in Dubai.

Click here for more information.
Share this article: